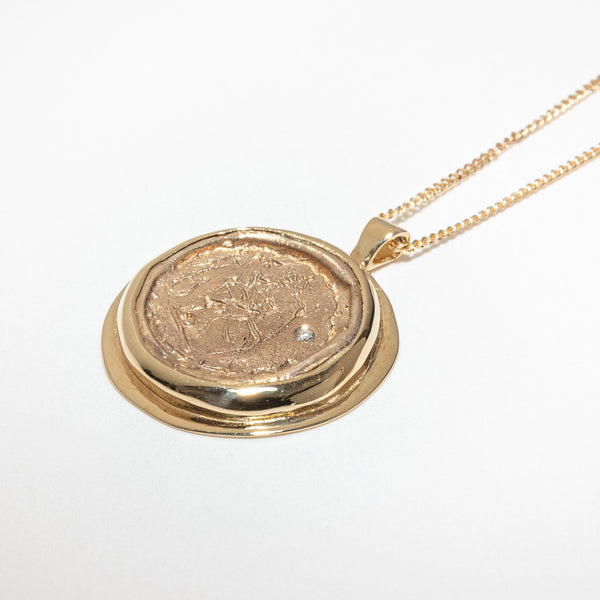 The Pan Necklace
Pan was derived from a Greek word meaning "shepherd". In Greek mythology, Pan was a half-man, half-goat god of the wild and shepherds. 
The worship of Pan began in Arcadia which was a district of mountain people. Being a rustic god, Pan was not worshipped in temples or other built edifices, but in natural settings, usually caves or grottoes such as the one on the north slope of the Acropolis. These are often referred to as the Cave of Pan. The only exceptions are the Temple of Pan in the Peloponnese and the Temple of Pan at Apollonopolis Magna in Ancient Egypt. 
The center coin was carved in wax first (no mould of an original coin was made) where you can see faded lines that will remind you of a real antique coin but with the maker's touch and interpretation. It was then casted in bronze and bezel set in
18k yellow Gold. The mixture of these two metals - bronze and gold - enhance the vintage feel of this pendant. A 
1.5mm diamond was set on the coin to give it a touch of sparkle and preciousness!
Bronze and 18k Yellow Gold
Diamond: 1.5 mm
Coin diameter: 22 mm
Coin thickness: 4 mm
Chain: 45 cm
This is a sample photo. Your necklace would be custom built just for you and will have unique variations from this photo. Please allow 3 weeks for delivery.