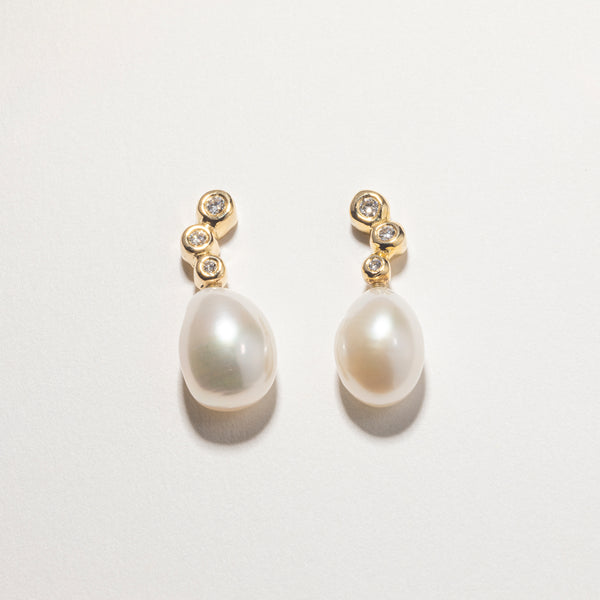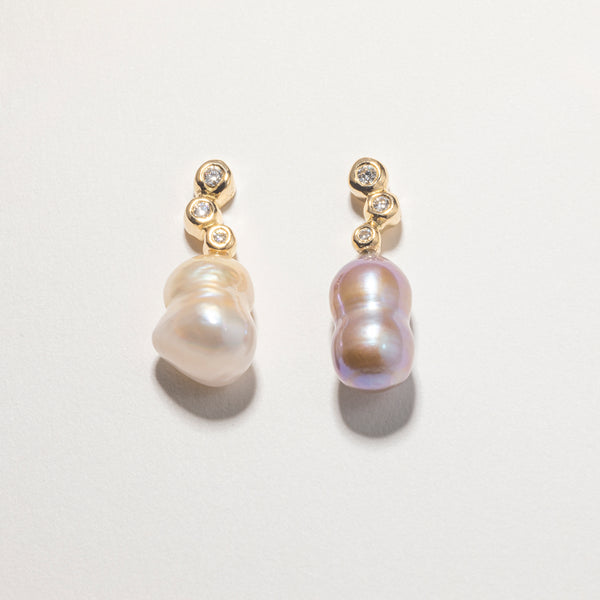 The Nereids earrings
The Nereids were the sea nymphs in Greek mythology and fifty daughters of the God of the Sea Nereus and Doris. They were found either on the waves of the sea or sitting on the rocks of the coasts and were known to be helpful towards sailors fighting big and dangerous storms. The Nereids personified female spirits of the sea and were worshipped as the divinities of the sea, usually associated with the Mediterranean Sea. 
Protector of the sailors, they were friendly and living in harmony with the sea creatures. 
These earrings are the perfect pair to adorn your ears for a special event. They are timeless and will look amazing throughout the years. 
Yellow Gold 18k 
Three F-G VS diamonds on each earring bezel set above a baroque freshwater pearl. 
2 diamonds of 3.1mm diameter, 2 diamonds of 2.9mm diameter, 2 diamonds of 2.4mm diameter for a total of 0.56 carat.
Length of the earring : 3 cm / Length of the diamonds and gold part: 14 mm 
Please note that every baroque pearl is unique and will look different from the ones pictured here. If you would like to see the pearl that will be set on your pair of earrings, please email us.
Pearls shouldn't be worn while showering or swimming and should be taken care of delicately.
This is a sample photo. Your earrings would be custom built just for you and will have unique variations from this photo. Please allow 3 weeks for delivery.